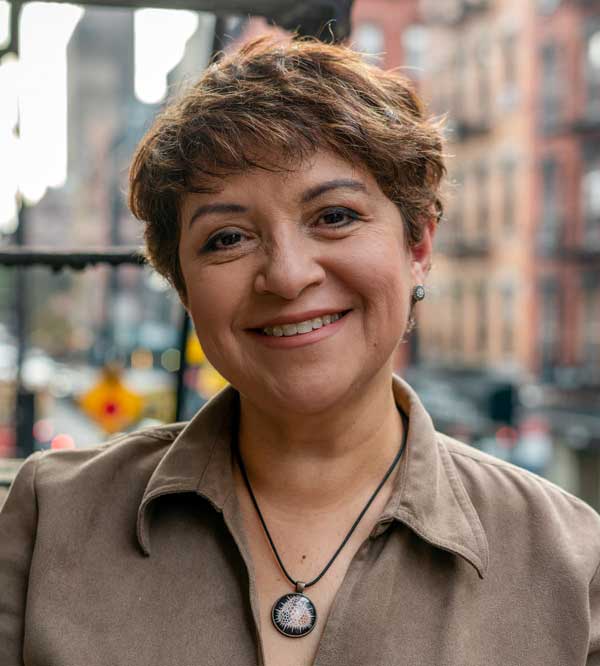 MEET


DR. CAROLINA GIRALDO,
ALL SMILES, CONNECTICUT
Those who know me know I do not like talking about myself. So, why did I agree to write this piece ABOUT MYSELF? Trust me, I asked myself the same question over and over as I wondered: What can I possibly share? Then I read the title again: Faces of NADG. Of course! What do I cherish the most about being alive on this floating marble? The opportunity to dive into the innumerable wonders that each human I meet holds.
WHAT BETTER WAY TO REALLY REACH INTO THE PSYCHE AND SOUL OF A PERSON THAN BY BEING IN A POSITION WHERE YOU CAN HELP AND BE TRULY TRUSTED.
I knew as a young girl that I wanted to do something with my life that allowed me to connect with those in need. My love of helping people was a seed planted deep in me that I could not shake.
I could not think of anything else. I am sure many members of NADG feel the same way – help as many people as we can. That same path brings us together as a team while still embracing our own uniqueness.
I would love to share a bit about me: a little, 4'10" ball of fire who doesn't like to rest until my achy 55-year-old bones force me to. I would love to share a bit about me: a little, 4'10" ball of fire who doesn't like to rest until my achy 55-year-old bones force me to. I was born in Bogota, Colombia and was brought to America at the ripe old age of two-and-a-half. Before coming here, I was diagnosed with hip dysplasia which was treated with a full lower body cast for a year-and-a-half. It left me with a wobble in my walk which kids loved to point out.

I was 'affectionately' called Penguin. Ok, cool – another hurdle to jump. Being bullied became commonplace but didn't bother me as much as seeing other kids bullied, which is something I could not tolerate. I didn't study karate, but I did study debate and the great comedians of the time, so wit and comedy became my defense mechanism. That became my superpower; make them laugh and they will forget why they were coming at you. I still use it today to help anxious patients relax and feel at ease (hence the name of our practice: ALL SMILES! 😊).
That is probably my superpower. Managing countless relationships every day and, although not easy, certainly keeps life interesting. I am most proud of the relationships, the real friendships that I have with my co-workers who are now my closest family. We have been together for most of the 25 years since I opened my doors fresh out of dental school. Without them I am nothing. We are growing old together, side-by-side in the trenches so I make sure I get up every day and make it to work so we can all help our families progress. I trust no one as much as I trust my team. I pray they can feel that from me. I would walk through fire for them because I don't know any other group more dedicated and hard-working as ours. (No offense to you all.) My team is there for me 100-percent and I am there for them even more. It takes a lot for a team to stick together through thick and thin and having developed that bond is truly my proudest achievement.
To look back now, 25 years in, I am just really starting to love dentistry as a craft. Those jigsaw puzzles I need to solve come together more seamlessly and with fewer jitters as the years move on. The laughter and music continue to flow through the practice daily regardless of the challenges we face. My children are each nearly out of college and proving to be as independent and fun-loving as their momma. Even more importantly, they are real compassionate human beings. I saw my daughter, also attending NYU, connecting with a homeless man in a real conversation and I just wanted to cry. Holy cow, what a beautiful thing. That truly is my greatest achievement to date.
I hope this short trip through memory lane has given a glimpse into the life experiences that have shaped me into who I am: a human counting on the connections forged with other humans to help carry me through life. I never take that lightly because we are nothing without others – others of every shape, color, creed, and walk of life.
AFTER ALL, WE MUST LIVE AND CARE FOR EACH OTHER ON THIS BEAUTIFUL FLOATING MARBLE.
Fast forward to high school, I had to find other ways to survive. Financially I was on my own: paid for high school by cleaning the classrooms and bathrooms; paid for college with three jobs; and paid for dental school by taking care of the elderly in private care. I will add that while in high school I also helped my father at his deli in Yonkers, NY, which, by the way, is my first memory of teeth. I would spend hours talking with customers and their mouths fascinated me. The way their teeth met, and the wear patterns formed like jigsaw puzzles. I began to think, "What the heck is wrong with me? Why am I staring at people's teeth?" My dream was to be a brain surgeon so I could give my patients mohawks. And, yet, there I was gazing at teeth, thinking to myself 'that tooth should be more to the left; that one needs to be a bit bigger' and on and on. I was mesmerized. Customer's lips became a frame around a canvas I wanted to paint. Creepy huh? But that's where it began, behind the deli counter slicing bologna.
When I moved into the dorms at New York University (NYU), I found my human playground in Washington Square Park. I had the privilege of spending time with the homeless who quickly became my buddies. What a joyous, eye-opening, and heartwarming experience. We get so wrapped up in the day-to-day real struggles that we walk quickly and blindly by those around us. What affected me most and took me back to my childhood was looking into their eyes. They were like the vulnerable friends I helped defend. I wanted to know more about them and their journey through life. Fascinating. How I approached them, how I connected with them, how I developed trust with them was THE MOST invaluable training I could ever have had to be an effective practitioner. I didn't fully appreciate that at the time, of course, but that skill set is the basis for the success I have had in the dental field. Young doctors sometimes ask me: "how do I get a patient to say yes?" I tell them, focus on the 'big stuff.' Take get to know your patients, see them as a human and not just a mouth. That is the most important part of our jobs. Listen and then take the time to listen some more. Patients won't care until they truly believe that you do.