Father's Day is this Sunday. It's a time to celebrate the Dads in our lives who inspire and guide us. They are the epitome of strength and courage, and we're excited to share a few of the special "Dads of NADG."
MEET DEMETRIUS GRAY, Dad to Naveyah (12), Demetrius (10), and Ava (4). Demetrius is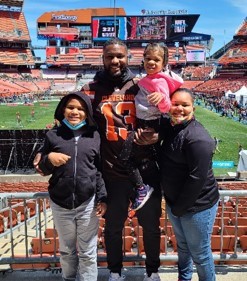 the office manager at Refresh Dental – Middleburg Heights in Northeast Ohio Region.
What would you like your kids to remember about you?
One thing I would like them to remember is that I'm the "FUN" parent. We always try to seek something new to do together – either going to different parks, beaches, indoor entertainment centers, or road trips. I want them to remember the times we cooked food together, decorated Christmas trees, dressed up for Halloween, every special occasion, and holiday. I want to be sure my kids remember that no matter what circumstances life throws at us, has thrown at us, or will throw at us in the future that I will be front and center to make sure we get through them together and that they are the most important people in my life. I want to make sure they remember the great conversations we had that has given them the knowledge they can use throughout life. Lastly, I want to be sure that they remember that their dad is hard working and fun and that I love them more than anything.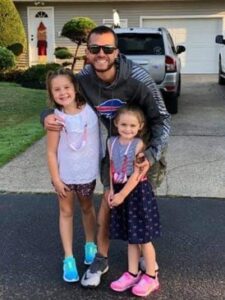 GET TO KNOW BRETT DELOACH, Dad to Layla (7) and Skylar (4). Brett is the treatment coordinator at Winning Smiles – Amherst in New York Region 2.
The term "girl dad" has recently gained popularity. What's it like to be a 'girl dad'?
Happy to answer that question! I say proudly to people about twice a week that I am "a girl dad" (RIP "Girl Dad" Kobe Bryant). Anyone who knows me knows that my girls are my world. I am blessed with two beautiful girls
that call me "daddy." The oldest, who is 7, is my biological child and her sister is 4. To be a dad you don't have to be their biological father. I'm so incredibly proud of the young ladies they are becoming. They have both taught me so much about life. I am truly lucky to have their smiles to help encourage me to do my best daily – whether that's in life or in the workplace.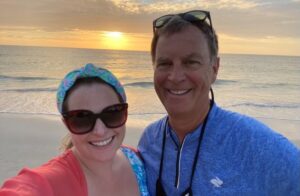 CHATTING WITH ELIZABETH (SANDERS) WOHALA, daughter to Dr. J. Clarke Sanders. Elizabeth is a field marketing manager for the NADG Marketing team. Dr. Sanders is an NADG Partner and Group Founder at Stonecreek Dental Group in the Central Ohio Region.
Since you grew up in a dental family, what was it like working with your dad in his practice? How has he helped shaped the person you are today?
It was a fun time! I got to see how he interacted with his team and his patients.
Whenever a patient found out that I was his daughter, they would say – "Is this how he is at home?" I always proudly said – "The way he is with his team and patients is exactly how he is in everyday life and as a father." He is someone everyone looks up to. He is a leader who truly cares about his team and patients and that is why he is so loved.
He has taught me some of the most important lessons in life – to always have integrity; to give to those in need; to work hard; to be kind; to laugh and be goofy; and, to always try and make the best of every situation.
As hard as he worked, and for as many hours as he put in, he always showed up. He was always there for our family and he and my mom are my biggest cheerleaders. He taught me to never give up. Even when a fire burned down his entire practice many years ago, he taught me that life doesn't always go as planned but we still stand tall and figure it out while keeping a positive attitude.
He can always see something good in everything and is a role model to not only me but so many others. He is a true leader, a caring friend, a goofball, and the best dad a girl could ask for!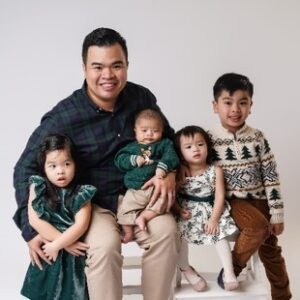 CONNECTING WITH DR. ANTHONY LE, Dad to Paxton (6), Haven (4), Emme (2), and Mason (9 months). Dr. Le is an NADG Partner who practices at Refresh Dental – Rochester in Michigan Region 2.
You have a full house with 4 young children! What do you love most about being a dad?
Being a dad has been a blessing. Seeing them adapt and learn new things astonishes me. I love that they're dependent upon my wife and I and will be sad when they grow out of that stage and don't need us anymore. The ever-changing words that they come up with to describe things has been funny to hear. I love how excited they get when I come home with all their bright smiles and open arms. I would not change anything about it. I love being a dad to them!
REMINISCING WITH KIM SLOAN, daughter to Tom Snyder. Kim is an east market HR business partner for NADG's Human Resources team.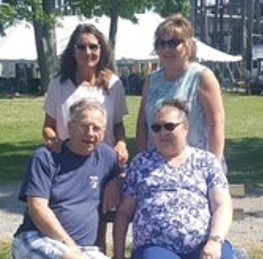 What are the most important life lessons you've learned from your Dad?
I love this question because one of my favorite comments is that I've learned all my bad habits from my dad. Ha! The life lessons are endless. But I would say the important things that I have learned from my dad are all centered around his work ethic. You give your all, no matter what. It's not for glory or praise, it's the right thing to do.
His empathy and compassion. My father would give everything he has to help others. He was a teacher his entire life and as a child with one sibling, I truly thought I had hundreds (of siblings) because anyone that needed anything became my sibling.
But most of all love. This has been the hardest year in my family's life because my mother died unexpectedly of a heart attack on May 26, 2020. I was blessed enough to see her two days before her death, but this was the day after my parents 57th anniversary. It was so difficult to watch my hero, the man I have always looked to for everything, broken. What I learned was love.
My father has done the best that can be expected with this big life change in losing his soulmate. Since then, he has left his home of 80 years to move closer to my family (and sister's family) in Florida. I have been blessed by now having him less than five minutes from my home. Now I get to repay him by being his caregiver and enjoy dinner with him every night. Every day we miss my mom. But we speak of the "silver lining" that we now get to see each other every day. I get to help him like he always helped me and to worry as I am sure he did so much about me. He is still my hero. But I get to help him and be his sidekick.
BEING INSPIRED BY NICK VATALARO, dad to Isabella and Anthony. Nick is regional director of operations for the Northeast Ohio Region.
Where do you find inspiration as a single dad?
As we approach Father's Day, I am experiencing the second holiday as a single father. Thanks to my family, and my children's mother, it still feels special. To say being a single dad is easy would be a lie. I miss my children every evening when they aren't with me. The inability to kiss them goodnight and make them breakfast in the morning is a struggle. But it is nothing compared to my sister's situation.
If you want to talk about an inspiration, I look at my sister, Heather. Being a single parent is difficult regardless of the situation, and I don't want to downplay that for anyone's life. However, in my experience, I have witnessed the most difficult of all situations in viewing what my sister went through. Her husband, Joe, my best friend, passed away due to a glioblastoma, a form of brain cancer. I went from having a beer with my best friend to helping him do the basics, such as, take a shower. During this time, I watched my sister navigate grief, pain, and most importantly motherhood.
Being a single parent is a challenge for everyone. Yet, watching my sister explain to her son why he needs to say goodbye to his father before hospice picks him up, there is nothing comparable. While I know the example is drastic, I know every day I am striving to be the parent my sister was through those years. Parenting has zero to do with being a father or a mother but has everything to do with the moments you create. I am eternally grateful that I was able to witness the mother and woman my sister became which gave me something to strive for each day.
So, as Father's Day approaches, I want to celebrate the woman that taught me to be a better man and a better parent regardless of the situation. I'm not surprised to say that my Father's Day is firmly based upon the mothers and women that shaped my life.
Thanks to these exceptional team members for sharing their stories. And thanks to all the fathers at NADG. You are an inspiration to us all. Have a wonderful Father's Day weekend.