Mother's Day takes on a special meaning this year as we reflect the challenges of the past year. The pandemic has required parents to make extra sacrifices to care for their family, and selflessly 'figure out' how to juggle everything to make it all work.
Moms….you're doing a GREAT JOB!
In honor of Mother's Day, please join us in celebrating a few of the special "Moms of NADG" as they share personal insights on being a mom.
MEET SARAH STRONG, Mom to Shane (22), Lexi (19) and Chadd (16) and Hygienist at Mandarin Smiles in Florida Region 3
Where do you find inspiration as a single mom?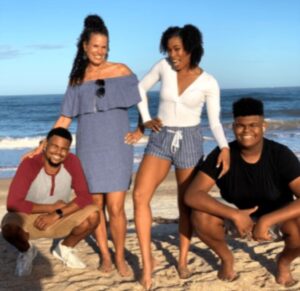 I draw my inspiration as a single mother from GOD. I am grateful he allowed me to be a mother to three incredible humans, not perfect but perfect for me. Raising children is a challenging task in itself, so being a single parent is not easy. Although the job I face daily is challenging, the rewards are that much more valuable. To see your children, start to mature into independent, successful young adults is the best blessing. I gain support and guidance from a host of sources, my mother, other awesome mothers, male role models, and my church family. When the picture is not perfect, and no one seems to know the answers, that is when I lean on my faith in GOD to guide my steps as a mother. I know my journey as a single mom is not easy, but I would not change it for the world.
GET TO KNOW KIMBERLY NEWBY, Mom to Lakely (1) and Office Manager at Cloudland Dental – Chattanooga Shallowford in the Tennessee Region
The journey to motherhood does not look the same for everyone. What did your journey look like?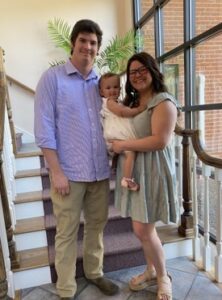 My husband and I had tried for several years to start a family but found out after about a year of doctor's appointments that we were unable to have children on our own. We prayed and prayed that God would allow us to be parents and knew that someway, somehow, he would provide.
At the end of 2018, we knew that God was calling us to pursue domestic adoption (adoption within the US). We knew that adoption was expensive, so we started fundraising which included multiple yard sales generating $500-$6,000 in sales each!
We matched with a birth mother which unfortunately resulted in a very traumatic, failed adoption. Although our hearts were broken, we were able to find comfort knowing that God was still good in the heartache and that he had a larger purpose and plan for our family.  We continued to trust in the Lord.
3 1/2 weeks after our failed adoption we received the call that changed our lives forever! An expectant mother had heard about us through someone sharing our story and wanted us to adopt the baby she was carrying.
Our little blessing was born March 2020. With Lakely, our family is complete, and we thank God daily for his faithfulness and his goodness! We are so undeserving of his blessings!
HELLO GWYN RUTHVEN, Mom to Liam (13) and Grace (10) and Dental Assistant at Eaves Family Dental – Bath in the New York Region
As a mom of school aged children, how did you manage the challenges of working and home schooling during the pandemic?
In the beginning we thought it was going to be for just a little while, right? When I realized that wasn't the case, I was so thankful to be home with them because I knew they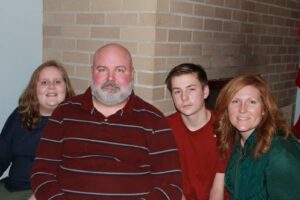 couldn't have gotten through the rest of the school year without my help.
I returned to work for the summer and realized it was short-lived when I learned that school in the fall would only be two days in person and 3 days virtual. How could I not be home with them on those virtual days when I knew how difficult last year was? Thankfully Eaves Family Dental allowed me to work the days they were in school and be home on the virtual days. This way, I was able to still hold my job and be there for my kids when they needed me. I know how hard my teammates had to work to make-up for my absence. I truly appreciate it. Really managing it came down to doing what needed to be done, one day at a time. Believe me, I wasn't always positive and chipper. I'm pretty sure my kids thought I was losing it at times. I was also grateful for my husband taking over when needed, especially when the school would sporadically shut down. He is a disabled veteran dealing with his own daily needs. All in all, thank you Lord for getting us this far!
REMINISCING WITH DR. VASANTHI RENGA, Mom to Sravan (29) and Charanya (20) and Doctor at Canton Family Dentistry in Michigan Region 1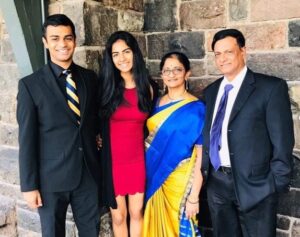 When reminiscing about your childhood, what is one of your favorite memories with your mom? What is one of your favorite memories with your own children?
My 80-year old mom, Jambaga, lives in India. I always loved the way she helps people. The best memories that I have with her growing up is watching her always doing things for others. She's truly a great social worker. Very good in all forms of art. Never can she be idle. A very caring person who is concerned for others well-being. Very helpful and giving, and she taught us to be the same way. She taught us not to complain. Not to whine. To be content in what we have with a grateful heart.
With my own children, I have several special memories but one of my favorites is letting them go parasailing and watching them soar! Now, I'm enjoying watching them as adults pursuing their dreams – My son, Sravan, works for Amazon in Seattle and my daughter, Charanya, is in her third year of pre-med at the University of Michigan.
LEARNING MORE ABOUT ELISE HORNSBY, Mom-to-be and Field Marketing Manager on the Marketing team
As an expectant mother, what are you looking forward to about being a mom for the first time this August?
I am most looking forward to all of our "firsts" together as a family. She's our first child and the first grandchild (on my mom's side of the family). I'm so excited to watch my husband become a daddy and our fur baby (Coal) become a big brother. I can't wait to celebrate the holidays as a family of three this year and look forward to all of her first milestones!
CONNECTING WITH SANYA HATIMI, Mom to Alya (7 months) Hygienist at Alpine Woods Family Dental in the Indiana Region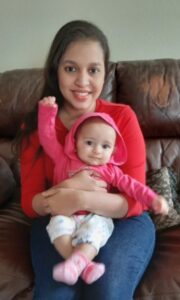 As a first-time Mom, what are the moments that have made you smile and what advice would you give to a future 'mom-to-be'?
I am truly blessed to have my Alya. She makes me smile with her cutest little tricks of crawling wherever she is not supposed to and with her funny facial expressions all day long. Despite a tough pregnancy that included multiple ER trips and losing 12 pounds along the way, I can say that she was the best thing that has happened to me. The advice that I would give to a 'mom-to-be' is that every pregnancy is different and the fruit of that journey in form of your little one is going to make it ALL WORTH IT. The kid is going to change your life completely, and trust me, for the BETTER.
CHATTING WITH ALEXIS WARNER, Mom to Liam (13), Elena. (11), Annelise (9) and Gabe (3) and Senior Regional Director of Operations for Michigan Regions 1, 2 & 3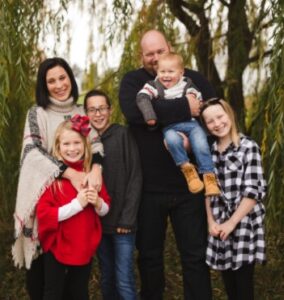 NADG recently introduced five Team Resource Groups (TRG's) as part of our mission to ensure diversity and inclusion in the workplace. What inspired you to lead NADG's new TRG, "Working Parents Network"?
Leading the new Working Parents Network is an exciting way that we can connect and support as parents. I started my professional career when I was 7 months pregnant in a new field and company. Learning how to lead a team while also learning how to be a mother was challenging. I was so fortunate to work for a leader who demonstrated great work life balance as a working single dad. In addition, I was surrounded by peers who were also seasoned parents. Throughout my career I have been blessed to have the support of the organizations I have worked for as a working parent but the best support I have received has been from my peer group. I can enjoy work life balance caring for my four children.
Thanks to all of these exceptional moms for sharing their stories. And thanks to all of the mothers at NADG. We appreciate your hard work, dedication, and commitment to juggle work and family especially during these trying times. You are an inspiration to us all. Have a wonderful Mother's Day weekend.